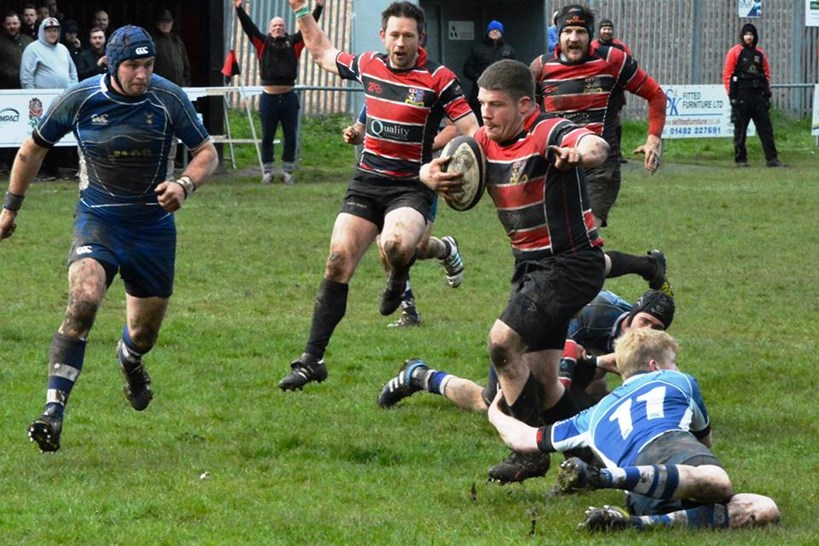 Determined Hullensians underdogs dig deep to defy odds and dominate derby
Hullensians 29 Beverley 5
Beverley, second in Yorkshire 1, came to Springhead Lane, if they're honest with themselves, expecting an easy victory against winless, bottom-placed Hullensians, but got a rude awakening as they were taught an abject lesson in the value of teamwork and pure hard graft as Hullensians systematically took them apart in one of their best performances in recent years. 
Hullensians played the first half with the strong wind behind them but hardly touched the ball in the first ten minutes as they had to dig in and defend against a big Beverley side who threatened to cut them to ribbons. Having weathered the visitors' early storm, they cleared their lines, and, following a lineout win, a series of forwards drives saw Joe Sanders crash over for the opening try, with Guy Martinson's conversion attempt bouncing back off the upright. It was the backs' turn next as the ball was moved out to the left wing, then brought infield for Martinson to set off on a weaving run for the second try to double Hullensians' lead. Beverley halved their deficit, moving the ball from the base of a scrum with their full back joining the line to create space for right wing, James Graham. to cut through for a try. Hullensians soon restored their advantage with interest when a Chris Harding break and some smart handling gave Josh Langford the outside line to round the cover and race in near the posts for the third try, with Martinson adding the extras. Hullensians had to defend another extended period of pressure following a series of penalties, but met the challenge head-on, and as the half drew to a close, Tom Sawden made a searing break as Hullensians created a chance well to stretch the Beverley defence for Chris Harding to pick his line for the bonus point try as Hullensians took a 22-5 lead into the break.
With the strong wind now behind them, Beverley set out to battle back into the game, but it was Hullensians who were next on the scoresheet when a series of drives to the line saw Danny Hague extinguish any hopes of a Beverley victory as he muscled over for a try, with Martinson kicking the conversion against the gale. Beverley bravely tried hard to get something out of the game, but Hullensians' defence was like a massive combine harvester going through crops as they cut down anything above grass, and with that determination, there was no way that Beverley were going to score again as they eventually ran out of ideas and Hullensians deservedly took the bragging rights as the hard hours in training finally came to fruition as they took a 29-5 bonus point victory to move up two places off bottom spot. It was a massive performance by the whole team, with an incredible work-rate and show of determination and desire. The strength and experience of Danny Hague and Joe Sanders was evident in the victory, and there would have been few teams in the division that would have beaten us on the day with that performance.